Top 15 Unexpected Locations in Utah for Landscape Artists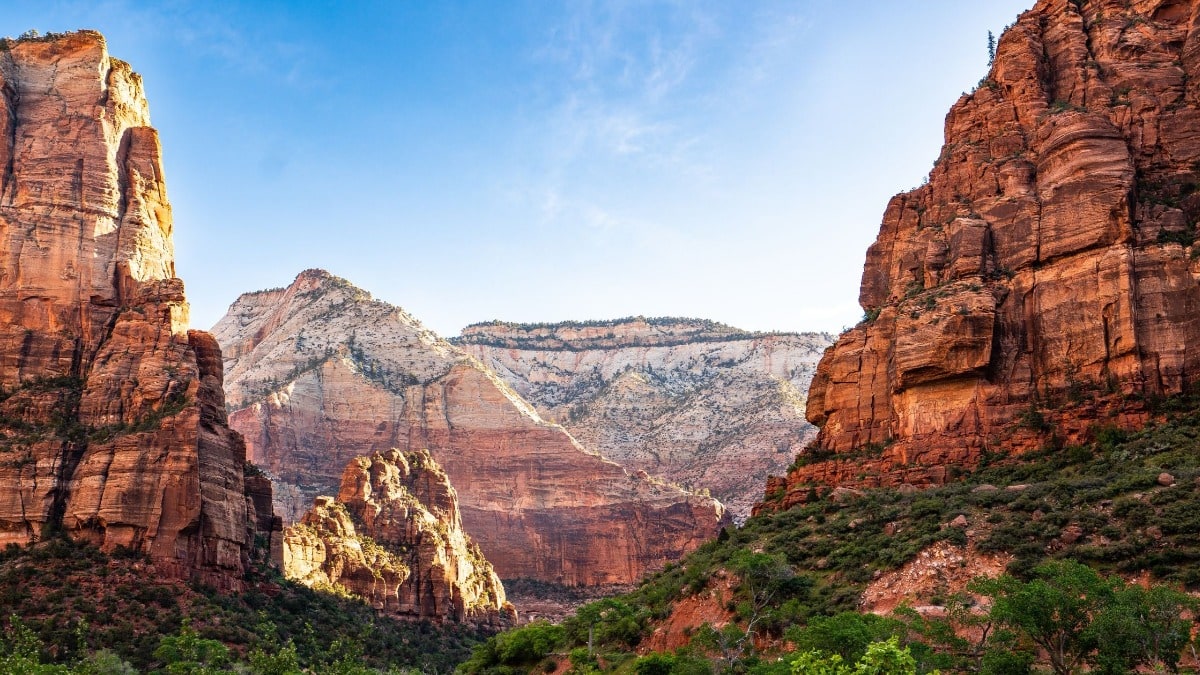 Utah has always been a right of passage for landscape artists. "There is nothing like Utah." artist Karl Thomas explains, "In terms of landscape diversity, the state is unique, with endless rock vistas in the south and alpine forest in the north." The four seasons come on strong here - sometimes packing in three or four seasons in one day, with snow in the morning and soaring temps in the afternoon. With most of the population concentrated near Salt Lake City, the rest of the state is almost all rural, with vast expanses of undeveloped and seemingly unexplored wilderness. Utah is a magnificent playground of light, landscape, and weather for artists.
Besides the prominent locations for artistic inspiration, like Zions and Arches National Parks, there are hundreds of lesser-known spots for artists to pull off the road, set up an easel, and create unexpected compositions.
Below are 15 of artist Karl Thomas' favorite Utah spots starting in the North and making his way South.
Mantua - Founded in 1963 by Danish immigrants, Mantua (pronounced man-Aay) is a small basin in Northern Utah surrounded by mountains. A stop along the Pony Express, the town still maintains several historic homes and remains and small, tight-knit community. In the summer, large poppy fields draw visitors and artists, and the nearby reservoir is the icing on the cake for this picturesque town.
Alta - Located at the end of Little Cottonwood Canyon east of the Salt Lake Valley, Alta served as a silver mine in the 1870s. Now, a small mountain community harbors high alpine meadows and lakes surrounded by towering granite cliffs. Sunrises are a spectacular scene in summer when the fields are covered in wildflowers, and in winter, the snow reflects the light as pinks, purples, and yellows.
Uinta Basin - Located in the northeastern part of Utah, the Uinta Basin contains Utah's highest peak, Kings Peak. The rugged and remote access prevents over-visiting, and plenty to be explored. The Upper Provo River runs through these mountains and is one of Karl Thomas' favorite rivers as its banks are lined with high alpine spruce, and the steep river creates menacing rapids. The movement of water offers an enjoyable challenge to paint.
Oakley - A gateway to the Uinta mountains is the small town of Oakley. Not far from Park City, this overlooked town was once a summer paradise to the Ute Indians who came to hunt, fish and gather wild fruit and sego bulbs. Later settled by Mormon pioneers in the last 1800s, Oakley has maintained its small-town charm as a primarily agricultural community.
Park City - Southeast of Salt Lake City, Park City, is an icon of Utah mining towns. Park City's mining boom in the 1860s brought thousands of prospectors, and the Silver King Mine was one of the most famous silver mines in the country. Now a prolific ski destination, Park City has been dedicated to the preservation of the history of the town. Over 60 Victorian buildings on Main Street and the colorful exteriors and architectural details are a draw for anyone with an artistic eye.
Heber Valley - Just 20 minutes south of Park City, the picturesque farming towns of Midway and Heber or located on the "Wasatch Back," as they are on the opposite side of the Wasatch Mountains from Salt Lake Valley. The back side of Timpanogos towers over the valley, and when Swiss families arrived in the late 1800s, they felt right at home. The town boasts itself as "Little Switzerland," with Swiss-inspired architecture throughout the city. The old-world charm and green grassy valleys full of livestock seem like a fairy tale.
Sundance - Founded by Robert Redford in 1969, this resort nestled in Timpanogos Mountain has been a well-kept secret until recent years. The small-town town feel of the resort makes it a unique ski destination, not to mention the incredibly rugged and high peaks that tower over the quaint community. Sundance is a big supporter of the arts, bringing in guest artists, hosting private shows, and offering unlimited space for artists to set up an easel and paint Plein air.
Timpanogos Mountain - One of Utah's most scenic drives is called "Alpine Loop." This 20-mile road winds through rugged alpine canyons offering jaw-dropping views of the glacier-carved peaks of Timp, with views of the Salt Lake Canyons in sight. Every turn along the route provides a new perspective. The fall is gorgeous with the aspen trees turning; it is one of Karl Thomas' favorite places to paint.
Hobble Creek - Continuing south through Utah, the little-known canyon of Hobble Creek offers spectacular fall views. Conveniently located outside Springville and Mapleton, the left and right forks of the canyon contain babbling rivers, steep mountain slopes, and backcountry access. For artists looking for an uncrowded canyon, Hobble Creek is it.
Diamond Fork - This large canyon connects the south end of Utah Valley over the Wasatch Mountains and into the mining towns of Price and Helper. Most known for the famous Fifth Water Hot Springs, the canyon also holds other surprises like the Red Ledges area, with beautiful sandstone formations. Meandering streams and large cottonwood trees make lovely compositions for artists.
Fish Lake - Traveling through central Utah, the towns become less populated. Fish Lake National Park features majestic stands of aspen encircling open mountain meadows that are lush with a diverse community of forbs and grasses. Fish Lake, from which the forest takes its name, is considered by many to be the gem of Utah. It is the largest natural mountain lake in the state and offers trophy fishing and bird watching. The mountains of Fishlake are a source of water for neighboring communities and agricultural valleys in the region. Elk, deer, black bear, cougar, and moose can be found in the forest, as well as wild turkey and mountain goats. For Karl Thomas, the inspiration for his art is at every turn.
Koosharem - The closest town to Fish lake is known as "Grass Valley." The area is situated at a crossroads for travelers going between Capital Reef and Bryce National Park. An agricultural town, Koosharem has a special place in the heart of Karl Thomas, as his wife Renee has family roots there. Several of Karl's paintings of the area include family homes and farms.
Canyonlands - Heading south and east, the vast and rugged Canyonlands have called to artists from its discovery. The dramatic desert scape offers artists panoramic overlooks of countless mesas, arches, canyons, and buttes carved by the Colorado River. For landscape painters, spending time in a place like Canyonlands will challenge and refine them, as capturing the essence of such majesty is not for the faint of heart.
Kolob Canyon - North of Zions Canyon, a 5-mile scenic drive through the canyon gifts visitors with crimson canyons with soaring cliffs. Its unique geological history is unmatched and often overlooked. The afternoon light is the best time for photography as the red rock seems to be on fire. When painting Kolob, Karl Thomas often adds in Native Americans on horseback as a tribute to the indigenous people of Utah.
Bryce - A fantasy land of hoodoos, spires, and rock formations, Bryce canyon differs from any other park in Utah. Its bizarre landscape draws hikers, artists, and photographers alike. It's one of those stops on a Utah road trip that is a must-see. With an almost psychedelic feel, it's no wonder artists are drawn to this phallic utopia.